Let's Celebrate Friday Night Lights with a Game Day Celebration♥
I don't know about you, but once School starts it's bring on the sports and Friday Night Light Celebrations start. I love to open up my home to all my favorite teenagers and parents to gather before they head off to the Football Game. Not interested in hosting something at your home, not a problem find a local restaurant to host your gathering no cleaning, no cooking sounds pretty good to me.  So let's get you Game Day Ready♥
Let's plan a Celebration at Home♥
Usually the get together start 1-2 hours before you need to leave for the game, from my experience with mini adults is you never know exactly what time they will show up and how many. Always count on 5 extra guests and if you are hosting mini men they eat for 3 and the lil Ladies spend most of the time getting ready for the big game.  Don't forget about the Adults this is the perfect time to gather some friends or family who love to enjoy some football as well.  This Celebration is just about getting people together and then heading off to support your local high school team, which I love to support.  So no matter what age your kids are, starting a tradition of Friday Night Lights will be a memory that they will never forget♥
Food♥
I would have to say a Pizza Bar or a Sandwich Bar is the best way to go when your thinking of what food to serve. Pizza is my favorite, besides you can have it delivered to your home♥ Order a bunch of pizzas, pick up some chips and either fruit or veggies and it will disappear really fast.
You can order sandwiches from either Jimmy Johns or Subway.   Jimmy Johns does their catering option perfectly, check it out here ⇒ Catering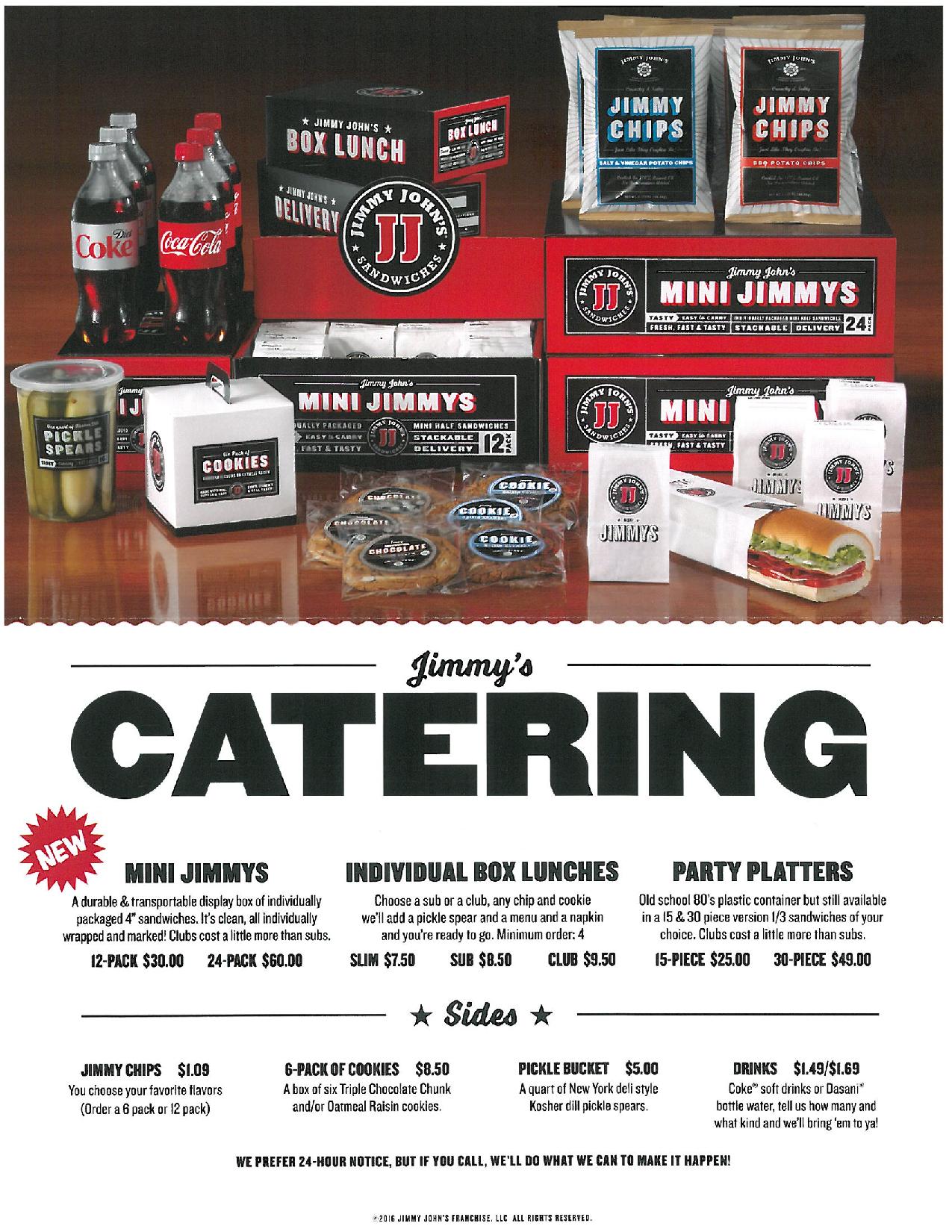 Pic From Jimmy Johns 
Desserts♥
A Celebration is never complete with out Desserts♥ Depending on your guests likings, I say you can never go wrong with Cupcakes and Cookies. Pick up some wonderful all done cupcakes from your favorite baker or create your own. Add your school colors to your cakes and cookies.  Looking to take it to the next level? Why not create a candy bar for your guests? You can create wonderful Treat Bags and set up an array of Candies. If you need a little help with your candy bar go here ⇒ Sharis Berries Candy Buffet
Drinks♥
Now I always think Bubbles are perfect for any Celebration, but depending on your guests I think water and party punch is the perfect way to go with any family friendly celebration.
If you choose to serve some Adult Beverages♥ Mulled Wine is fantastic to get your bones nice and warm before you head out to the game.
Party Favors♥
Now I don't know about you, but I find that the lil Ladies spend most of their time getting their School Spirit Décor On. So why not have it all prepped for them.
You can have Tattoos, face paint, glitter and yes lot's of it all ready for them.
Have Fun with your Celebration and go out and support your Local High School Team♥ You won't be disappointed.
Happy Planning♥
Let's Get Social♥ Tag me in your Game Day Celebration #tiltedrevelry