Since I am all about getting you in Shape this January, Biking is a total workout and especially if you double fist. You will get a leg, arm and an amazing core workout all from Celebrating- Thank me Later for your new improved bod♥
Let me introduce you to the Cycle Saloon♥
Image Credit The Cyle Saloon
I am not sure if you have ever seen this Saloon cruising around Ballard, but if you do you are in for a treat. This 16 passenger is full laughter and drinking and you just feel so jealous that you were not invited. So plan your own Celebration on this amazing Cycle Saloon♥
If you have a special Birthday, Anniversary, friend or family in town or just want to see some amazing local breweries and have a blast doing it the Cycle Saloon is your next adventure.
Rent the Saloon For A Private Celebration.
Private Party rentals are for groups of 8 -16 people.
The Cycle Saloon carries 16 passengers, plus the driver. There are 5 pedaling seats on each side, plus one non-pedaling seat over the rear wheels. There is also a bench in the back of the Cycle Saloon that seats three, plus one standee spot in the middle for the "dancer".
For all the information you need to rent this saloon head on over to The Cycle Saloon
Don't have enough people to rent the whole saloon, not a problem just buy a seat and meet some new friends.
Land not your thing, try by water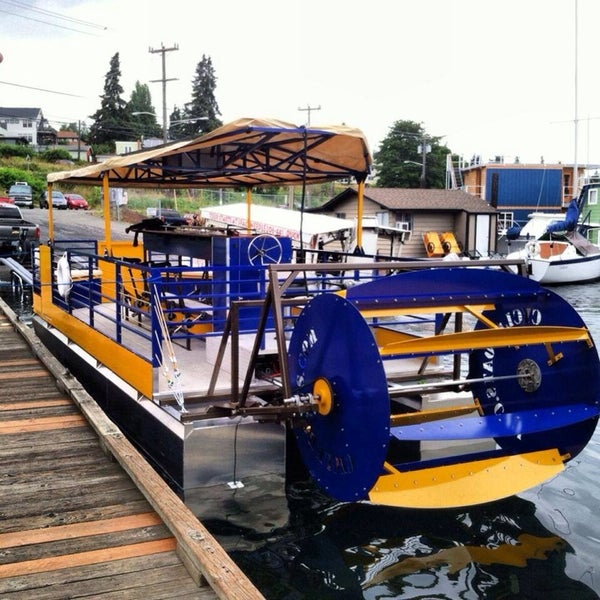 Image & Info Credit   Cycle Saloon
The booze cruise takes you around South Lake Union, allowing you to enjoy the water as well as epic views of Seattle, Gas Works Park, the "Sleepless in Seattle" boathouse and more
Now that I got your wheels turning, write all this down in your Party Planner and start gathering your group for an Amazing Celebration that you will cherish forever..
Happy Planning and don't forget to head on over to the Cycle Saloon for all your Party Planning Needs.
Happy Planning